Dear Parents,
I write today to let you know that your child's grades are now available on the D-E website (you can follow the directions below if you need a reminder about how to access them). Please note that the comments in this report were written before spring break, and that no grades were attached to them at the time. Our hope was that students would make better meaning of them if they did not have the grade to distract them from the observations and advice that were being offered. We have left the comments on the report card for review and to be able to see them alongside the grade for conversation.
As always, we hope that you will use these grades to talk with your child about the rest of the year, which has plenty of time left for improvement.
Students in grades 9-11 have been working hard this week on making course selections for next year. Yesterday's long advisory was spent on this process as well as looking at grades. Please be sure to talk with your child about his or her course choices, and feel free to call us and ask questions if you want. The final step of the process is a signed form that indicates your approval of the choices, just so we are sure that you have been involved in this conversation. We aim to have final course selections made by April 19.
While the underclassmen were choosing courses yesterday, the seniors began their conversation about commencement and the end of the year. They are starting to choose student speakers and award winners, and talking about what the final weeks of high school will look like. It's both exciting and a touch sad to think about the end of their Dwight-Englewood days, and we plan for these weeks to be the crescendo of their experience.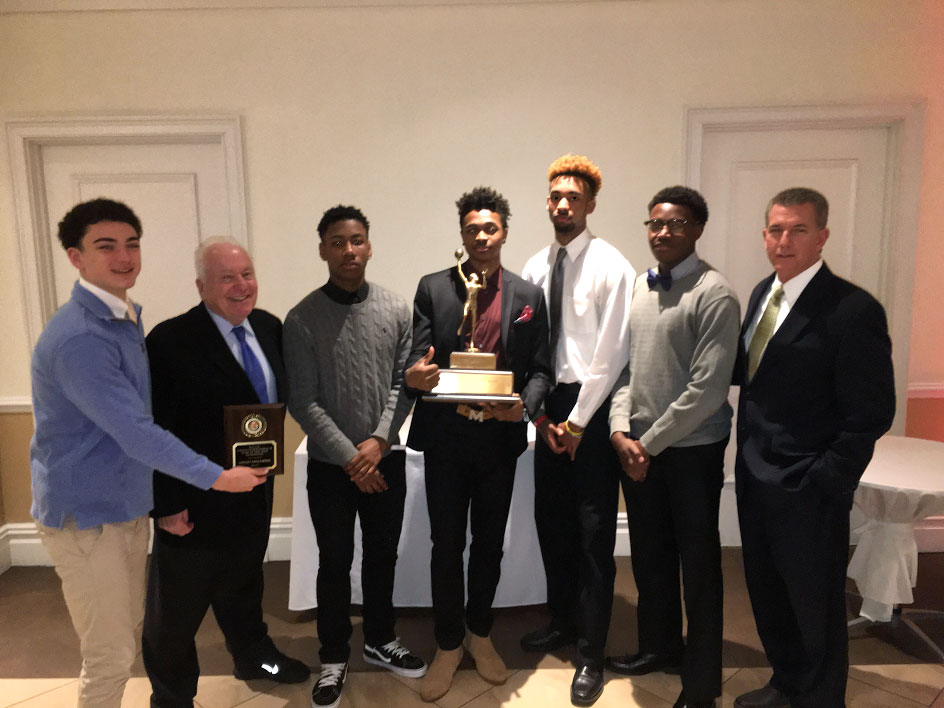 Go Bulldogs: At this year's Bergen County Winter Sports Banquet held at the Fiesta in Wood-Ridge, the boys basketball team was presented with the Bergen County Coaches Association Trophy for the Group 1 – 2 Team of the Year.  This award is presented to that team that distinguished themselves throughout the season in the Division, Bergen County Jamboree and in State Tournament. Among their accomplishments were Divisional Champions, State Section Semi-Finalist and a Quarter-Finalist in the Bergen County Jamboree. 
And Go Bulldog 'Bots: In my last issue I shared some news of our Robotics teams and their recent local, state and regional-level accomplishments. This week we heard more exciting news from their advisor, Dr. Marco Pagnotta: D-E's "varsity" Robotics Team, Team 0207 Critical Mass, will be competing in the First Tech Challenge World Championships in St. Louis from April 26 – April 29. This is an extraordinary opportunity for our students to compete against and connect with teams from throughout the US and the world. Here is a link if you want to learn more:: https://www.firstchampionship.org/
Here's hoping for some spring weather soon. Have a great weekend.
Sincerely,
Joseph Algrant
US Principal
---
Instructions to Access Report Cards
 By following the directions below you will find your way to both the grades and comments for all classes. These steps detail how to access your child's grades:
Go to the My DE area of the Dwight-Englewood School website by visiting 

www.d-e.org

 and clicking on My DE at the top-right of the page.

Log-in to My DE using your assigned password or the password you established for yourself. If you need help with your password, please call Computer Services at 201-227-3177.

Click on your child's name near the top of the page.

Click on Progress (if not already selected), then click on the current grade for your child immediately below that.

After selecting the grade, click on the Report Cards link in the Performance area.

You will see two links for the Spring Interim: Academic Report Card and Physical Education Report Card. When you click on either of those links, a pdf file that contains your child's progress information will open in a new window.  This file can be saved to your computer or printed directly from the screen.  These reports will remain viewable while your child is enrolled in the School.